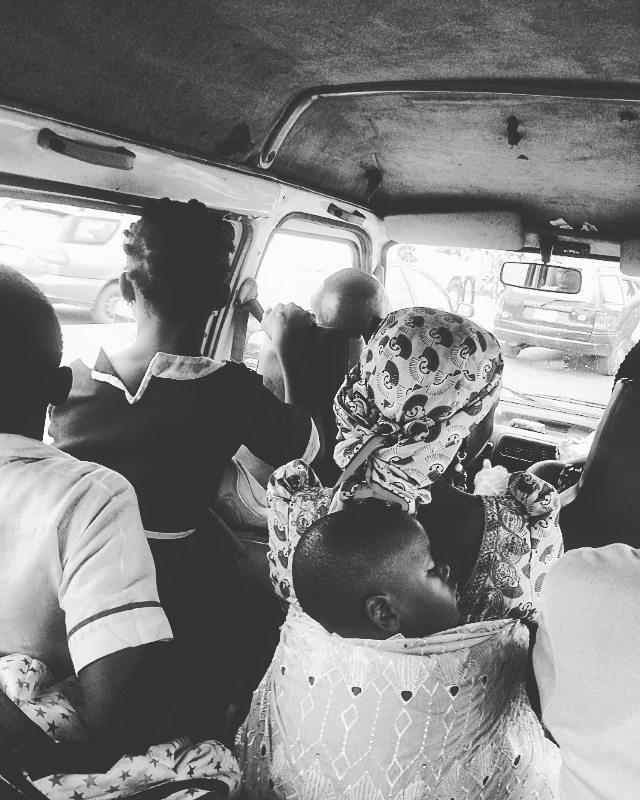 Act I.
A man died in September. I knew this man in multiple ways: a lovable uncle, a father of six, brilliant, fiery, orator, funny, fearless, flawed.
Act II.
Life is a progressive filter. I know this because one morning, around 6am, I saw an elderly woman come out of a small gate. She was tall. She had straight shoulders, cropped hair, and was probably in her 80s. Her hair was a full white halo. She turned out of this gate slowly, every step calculated. I knew, immediately, that she must have lived a very careful life—perfect grades in Law school for instance, the right choice of a husband, well-trained children with impeccable table etiquettes, clean rooms, a sweet-smelling garden. In almost the same instant, another woman—elderly too—similar in height and posture walked out of the gate. She looked exactly like the first woman and would have easily passed for a twin, except that her hair was not fully white and she had less creases on her face. Her eyes were sharp and she carried herself as though every step was a weight. A mother and her daughter: two generations of careful decisions. What has been before, is now, and shall be forever without end.
Act III.
I have faint memories of when I was a child, sitting in the back pews of a large orthodox church in Kemta, listening to the choir under fluorescent lights. It was a convention of sorts and Pastor O. always took me along.
*
Pastor O.: forsaken by his wife because he'd chosen not to bribe to win the court case that threw him out of his land.
Pastor O.: forsaken by his two children because, well, they'd discovered a modern way to be Christians and Pastor O. would have none of it.
Pastor O.: forsaken by me, because all my life I have been packing my bags and leaving.
*
One day, in year 2, 5 years after I'd last heard from Pastor O., my phone rang. It was him calling. I was in class, so I made a mental note to return the call after.
I forgot to return the call.
2 weeks later another call. This time it was my mom. A simple, quick statement that cut like a knife:
"Pastor O. died yesterday."
That night was long. I kept on dialing and dialing his number, but nobody picked the call.
*
My mom discovered an incredible photograph of Pastor O., somewhere in an old album while she was cleaning the house. He was holding a microphone in his left hand and pointing with his right. His tie was loose and almost falling off. I was in the right corner of the photograph: a little boy with unusually red lips and disinterested eyes.
*
Pastor O., I know now the Jesus after whom you modeled yourself:
"How think ye? if a man have an hundred sheep, and one of them be gone astray, doth he not leave the ninety and nine, and goeth into the mountains, and seeketh that which is gone astray?"1
Oh, what stray member of your flock I am. Phone numbers may cease to work, you know. And even you may decide to go—to die. But my heart is an indelible roll of film; your photograph will always continue.
Act IV.
She was a long letter kind of woman, averse to social media and any form of instant communication. She preferred long, premeditated talk: to write her heart out in an email, or to send a letter with ink blotches between the paragraphs—all her life was measured in dispatches.
We grew up together almost as siblings because her father was as good as mine. We owned him, together. I called her 'sister' in primary school. Later I would know the weight of the word.
*
Her father was an exact man. Even in death it was impossible for anyone to amplify him—one word was enough to contain him. Kind. To add anything else would have being to introduce a decimal point.
*
I said: Do not leave me.
She said: Do you remember Caph? For I am become like a bottle in the smoke…
*
We drifted apart after we lost her father. Refusing to reply mails or see me. I carried her inside myself, continuously. She was a fine burden to bear. I waited for her. I was the sole guardian of her hiatus. Or so I thought.
*
One day, while I was returning from a walk down Obio Imo, I came upon two teenage boys beating up a little girl. Behind them, an even smaller boy was standing with his head bowed. Arms behind his back. After I'd sent the rascals off, I walked up to the boy and lifted him up, shaking him in the air angrily.
"What is wrong with you? Get a grip of yourself! How can you let them do that to your sister?"
But I felt like I was talking to myself.
His tears fell on my face. He opened his mouth, searching for words.
"But I am not strong enough."
I put him down and patted his head. And then I realized the answer.
"You do not have to be strong enough—just stand with her. All you have to do is stand."
*
I went unannounced to T.'s house in Port Harcourt. When she saw me, she stood at the door and simply said:
"Silly you! You should have come last week! I baked the whole house full and there was no one to share it with."
*
Write me, soul sister—we are our bottle and this is our smoke.
1: Matthew 18:12 (The Bible, King James Version)
For "Baba Eto" and Daddy JJ.: Beautiful men in different regards. Journey soft, journey well.
Thanks to T. for letting me write about Daddy JJ and for reading drafts of this.