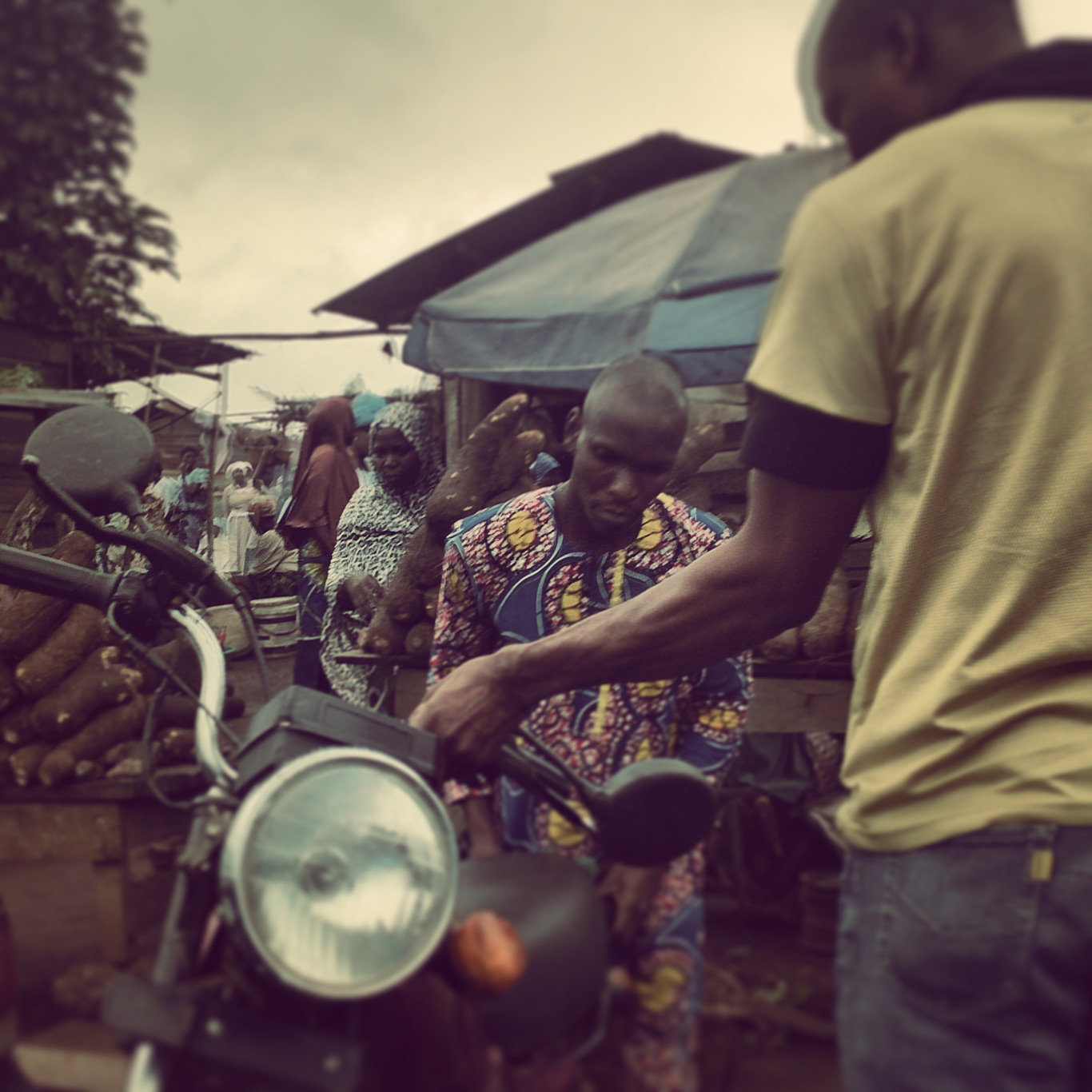 There is a small and quiet market at Onipanu. The market is just a few blocks long, with opposite stalls about six feet from each other. Early, on a Saturday for instance, the air above it is soft, with clouds hanging so low you can almost feel them touching your hair. If on this Saturday morning too, the sun is out, then the shadows from roofs of stalls on both sides would be long enough to meet at the center of the market, casting a complete shadow—and ultimately, shade—on the people in it. To find this market, you'd have to ignore a slightly larger and boisterous market not too far from it, where the air is hot and the clouds are distant and the sun is inescapable; where everything is closely packed and noise from loudspeakers make it impossible for you to hear your own thoughts. Then you'd walk further down, and turn left—or right depending on what side of the larger, noisy market you were coming from.
I stumbled on this quiet market by chance—or more correctly, by grit. I was visiting a friend and she had requested that I bring her apples. I didn't find apples at the usual spots in Surulere or Ojuelegba, so I had settled on buying them at Onipanu. When I got to Onipanu, I still couldn't find apples. So I began to walk around in search of them. It was in this frantic search that I turned into a corner and found myself in a small food market. It was unusually clean and quiet, with clear pathways for customers. I was instantly pleased to be there. Nothing in the market was out of the ordinary: the usual tomatoes, pepper, vegetables, chickens cooing in cages, friendly chatter from a small outdoor restaurant. But the quietness of the place heightened my recognition of its banality. I stood in the center of the market for a while, enjoying its ordinariness. There was a woman standing at a stall. Her hair was closely cropped. Her cheeks drooped slightly. She called out and said:
"Uncle. There's tomatoes now. No more scarcity. Buy, let your girlfriend fry eggs for you."
I smiled and waved at her, and then I continued searching for apples.
*
The speed of a cinema film is usually about 25 frames per second. This means that for every second you spend seeing a film in a cinema, about 25 images are actually flickering past your eyes. I've always thought of the eye as the ultimate camera (Jesus, in one brilliant statement, described the eye as "the light of the body"). If we were to ignore the truths and complexities of biology and physics, and we were to assume—very modestly too—that the human eye in viewing real life, takes in the same 25 frames per second as in a cinema, then in one day, you see more than 2 million frames, which is more than 2 million images. Therefore, when you hold a photograph in your hand, you are holding one of these 2 million images that was specially selected by the photographer on the day it was taken. Berger, in writing about frames, said: "God knows how many frames per second flicker past in our daily perception. But it is as if, at the brief moments I'm talking about, suddenly and disconcertingly we see between two frames. We come upon a part of the visible which wasn't destined for us."
While I was in the market at Onipanu, I thought of Berger's "between two frames". Is this where the spectacular situates itself?
Later, my friend told me about a Murakami book she had read. In the book, there was a story about a couple visiting a zoo. She told me how she had continued to expect something spectacular to happen—a plot, a crux of the matter, some action, something outrageous or devastating. But the story had ended simply the same way it started: ordinarily.
As humans, we are always searching between the frames of our lives for the spectacular, for the one frame that is worth remembering. I imagine that this must be one of the reasons for every photograph we take—to record the frames of our lives we think are special. But what is the fate of the banal? If we spend most of the hours of our lives doing ordinary things, why do we hardly consider making memories of them?
This is not a call to undermine the spectacular; I am writing simply to tell you how valid it is to immortalize your ordinary.